Video Book Trailers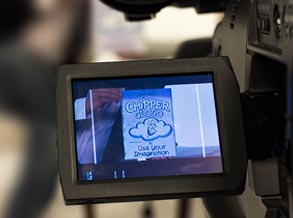 Spread the word about your book with a "commercial" –a video book trailer!
Book trailers focus on using audio and visual elements to spread the word about your new book.
Similar to a movie trailer (the "commercials" you see before the feature film at the movie theater or on TV), a book trailer is created by a professional video production studio, to pique interest in your book.
Trailers are posted at online points of purchase for your book. Book trailers make the viewer aware of your book's content and entice them to buy your book – right at the moment they're considering making a purchase!
Your book trailer will be featured on the Dorrance YouTube channel, and is appropriate for use on an author's personal web page or blog, and Amazon Author Central.
View sample book trailers on the Dorrance Publishing YouTube channel!
We offer several book trailer packages. Explore the options below to find the one that's right for you!
Opening Act Book Trailer – $599
This 30-second trailer created just for your book includes:
Script development
Storytelling through edited text, 2-D graphics and book cover art
20-25-second voiceover
Digital mastering for web streaming capability and high-quality video downloads
Feature Presentation Book Trailer – $2,499
This extended, 60-90-second trailer packs in more features to really grab the viewer's attention:
Creation of a custom voiceover script, based on your book's summary
Professional voiceover talent that is reflective of your book's genre
Edited, royalty-free, high-resolution still images
Two high-definition video clips – stock video or newly shot live action footage – specifically selected to illustrate your book's summary
Digital editing of all production elements
Royalty-free music to enhance the voiceover and images
Digital mastering for web streaming capability and high-quality video downloads
Author Personal Pitch Video – $4,449
This 1-1/2- to 2-minute custom-made video features you, the author, describing the highlights of your book and illustrating for customers why they should buy it:
Filmed at a mutually agreed upon location by video production veterans*
High-definition video: four hours of shooting, to include**:

Set-up
Interview prep
Author interview
Supplemental video of author in natural surroundings (four set-ups)
Equipment striking

Professional lighting and audio
Video editing
Royalty-free music
2-D graphics
Digital mastering for web streaming capability and high-quality video downloads
*Professional paid talent and/or location permits are additional.
**Additional on-location shooting after four hours will be billed at $200/hour.
Mini Movie Book Trailer – Call for Quote
A 1-1/2- to 2-minute trailer that tells the story of your book in an awe-inspiring way, this video is a stylistic teaser that captures the essence of the story:
Script writing that captures the book's overall story arc
Casting of professional actors and actresses through auditions
Location scouting prior to the shoot
On-location shooting for 16-20 hours (various locales)
Professional voiceover talent
Creative shooting/framing, lighting and writing
Production crew of four people – producer, shooter, audio/lighting and assistant/grip
Editing of high-definition, high-quality video by experienced editor
Sound design by seasoned audio engineer
Royalty-free music to move the story along
Digital mastering for web streaming capability and high-quality video downloads
Animation Book Trailer – Call for Quote
Your characters and story will come to life with compelling 2D animation – great for children's books!
Script writing that captures the book's overall story arc
Development of storyboards: the script will be translated into actions and pictures
Character profiles: the main characters will be drawn by one of our animation artists
Development of style: tone and artistic approach
Character voices recorded by professionally trained character actors
Creation of animatic that puts the storyboard in motion and will provide a feel for the timing/pacing of the final animation
Animation: artists will vividly design and animate each character, along with the various backgrounds needed to bring your story to life
Editing of high-quality animation
Royalty-free music to move the story along
Sound design, effects and mixing by a seasoned sound engineer
Digital mastering for web streaming capability and high-quality video downloads
Examples of Dorrance Video Book Trailers